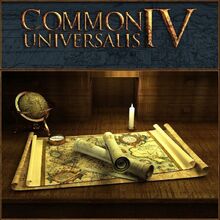 Welcome to the Common Universalis WikiEdit
Welcome! This wikia page is for players who want to know more about Common Universalis, the total-overhaul mod of Europa Universalis IV!
Don't have much here right now, but we'll try our best making this wikia page detailed and accurate.
Steam description : Common Universalis is a total-overhaul mod *for Europa Universalis IV* that improves original gameplay in almost every aspect. While other mods keep adding new countries, provinces, religions, cultures and other stuffs, Common Universalis focuses on the 'engine'- how all those stuffs work toghter, how the world evolves from 1444 to 1836, and how human and ai players make decisions. In Common Universalis,every country can choose its own path to advance,every path has its problems,and every problem has its solutions.
And they are not joking, if you play with this mod, you'll have problems, and hopefully you'll find some solutions here (or at least more information to understand where your problems came from).
Introduction
Mechanics overview
Edicts details
General tips
Mod Manual
Edit
From the mod manual in the decisions which costs 1 ducat, but here it is free:
Common Universalis is a total overhaul mod focused on producing an entirely new, challenging, balanced and realistic gameplay experience. In this mod you can play as whatever kind of country you like, all having their unique mechanics, problems and solutions. In fact, you can never experience every aspect of the game, unless you have tried all of them.
In this manual, you can learn what new features are added, how these new mechanics work, and understand some basic parts of game strategy. But it will not tell you how to make decisions or how to solve problems, for these, you have to find out in the game yourself.
Some contents that have their own UI and help screens, like Governance Capacity and Trade Company, are not included in this manual.
What do you want to know?
Still nothing here
Edit
Since this project is in the very first phase, I'd like to put some random words here, feel free editing them:D
Sweden is not op in this mod
Kebabini can inherit Mamluks
All thicc countries explode
Latest activity
Edit
Photos and videos are a great way to add visuals to your wiki. Find videos about your topic by exploring Fandom's Video Library.
Community content is available under
CC-BY-SA
unless otherwise noted.